Cinematic Love Stories is your premiere Pennsylvania wedding videographer for high quality wedding videos. We are comprised of the best award-winning filmmakers in the Central PA area and we would love to start a friendship with you and have the privilege and honor of capturing your special day!
Wedding Videos are a one time deal. You can't go back a try again. It's important and reassuring to have a seasoned team of true professionals who have stood the test of time, hold a high reputation in the wedding and film community. We are here for you. This is what we do! We are your true pros that you can count on to get the shot and have the backups in place to make sure we don't miss a thing!
Cinematic Highlight Videos
We create cinematic style highlight videos of your wedding day that you can watch over and over again! You've probably watched your parents wedding video on a VHS tape once as a kid, maybe once and I bet your parent's have most likely only seen it a handful of times or less. Well, we've done something different! We've been perfecting short wedding videos for over a decade now. Our amazing team creates stunning videos that you can watch over and over again and share online for your friends and family to see as well.
Cinematic Love Stories specializes in a 7 Minute Highlight Video. We have found that this length is long enough to fit in your complete wedding story to be effective and powerful, but also short enough that you can watch it in a quick sitting and then watch it again and again.
Full Feature Length Videos
Our Full Length Wedding Videos are usually between 1.5 to 2 Hours in length. It consist of the getting ready portion of the day, the full length ceremony, cocktail hour & portraits, and the reception.
The videos start off with a highlighted segment of the bride and groom getting ready. This portion of the video is around 15-20 minutes. The ceremony is edited in it's entirety. Some ceremonies are a short 15 minutes while others can go over an hour. In each situation you will get to watch back your full ceremony with professional audio that is cut to each shot that makes sense with where the action is and who is talking. We then capture highlights of the family session with formals, the bridal party photos and couple shots. This is usually around a 10 minute segment. The reception consist of the fully edited introductions with live audio right from the DJs soundboard. Usually the videos would also consist of the first dance, parent dance and the entire speeches. The remainder of the video then includes highlights of the dancing, cake cutting if your itinerary allows, and any special formalities you might have. On average the videos are around 90 Minutes long, but each video is edited uniquely to your special day and your personal request.
The Ceremony Video will be just that, a video of your ceremony in it's entirety. This is creatively crafted with cinematic style shots, closeups of the bride and groom giving their vows and professional audio. We use the best wireless lavalier mics available. They record internal and cause no interference with the church or DJs mics. They are also half the size of a smart phone, so they go unnoticed and you can keep them tucked away in your pocket.
Sydney · married on 06/16/2018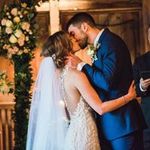 Brianna · married on 09/09/2018
5.0
Amazing Work
Ever since my husband and I first met Justin, we knew we had picked the best videographer. He sat with us and listened to our story, asked about what we wanted in our video, and expressed excitement to tell our love story. He is talented and caring, and I was so happy that we hired him because he captured our day so perfectly. We were on the fence about hiring a videographer, but after our wedding we could not wait to see our video! Justin goes above and beyond; hire him!
Sent on 11/18/2018
CINEMATIC LOVE STORIES'S REPLY:
I am so happy to hear that, it brought tears to my eyes. Thank you so much for letting us film your day!
I realized about 6 weeks before my wedding that I had enough extra in my budget to hire a videographer. I must say, this was one of the best decisions of my entire wedding. I feel so lucky that Justin was available on such short notice and had the absolute best prices ever for the quality of video produced.

Our video perfectly captures the day, and every time I watch it, it takes me right back. My dad was so reluctant to watch it because he said the "day was perfect and I don't want anything to change my mind". Well, after watching the video he said everything was captured as perfectly as he'd remembered.

Sent on 05/05/2019
CINEMATIC LOVE STORIES'S REPLY:
That's so wonderful to hear Melissa! I really enjoyed being a part of your special day. Thank you so much for having us and I wish you both blessings in your future with each other! I know you'll accomplish great things together!
Cinematic Love Stories is a Pennsylvania wedding videographer based in Lancaster County, however we are willing to travel anywhere! We would love to do your destination wedding!
Contact us now for the best price and to lock in your savings! If you're looking for pa wedding videographers we would love to talk to you about your special day.
You can check out our official page here!